Today I went out on my lonesome; missus at work, Ben at a friends house and Chris barely out of bed!
After dropping off the diva and the dummy I came back home and got the bike ready. I changed the mounting position (yes again!) of the Active 10 back to the top stem but this time reduced the angle of the stem from 25 degrees to 15 degrees so I could read the screen. A point of note here - remember to do it up, then give the handlebars a wiggle and if they're sloppy do it up properly as the teeth haven't engaged, rather than doing this half way down the road!
I had to get some stuff in town so I decided to cycle there, then carry onto Wargrave along the Thames towpath so I made sure I packed my padlock in my rucksack. I also made a packed lunch.
The pills are my Metformin for my diabetes, and the chockie biscuits are for just in case I need sugar - which I actually did and scoffed them down early in the ride.
The ride to town was as usual down the Kennet & Avon. I got 3 books to read and looked in a new cycle shop. From the outside it looked expensive, but when I went it I was amazed at the prices - sooo cheap! They have bikes in there, full Shimano quick shift, suspension, damned good looking from £180.00. Chinese imports, but damn! I wish they'd been open before I got my e-bay bike. I paid £30.00 for this new helmet: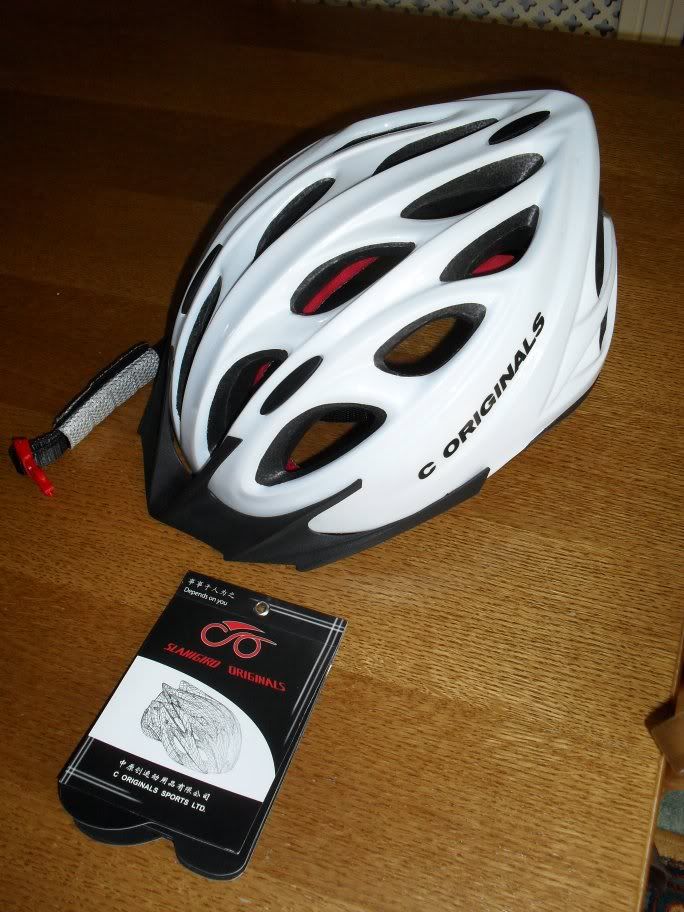 Seriously apart from Aldi having a decent one on sale once in a blue moon, & Wilkinsons selling utterly crap ones I haven't seen anything as good and nice as this. They even had a tricked up modern penny farthing upstairs which actually looked like it would be cool to have a mess around on.
Unfortunately when I got to town I forgot to switch off the GPS and the batteries ran right down so I had to buy some more - not a problem, except I had to split my route stats in two.
I then carried on down the towpath to Sonning lock: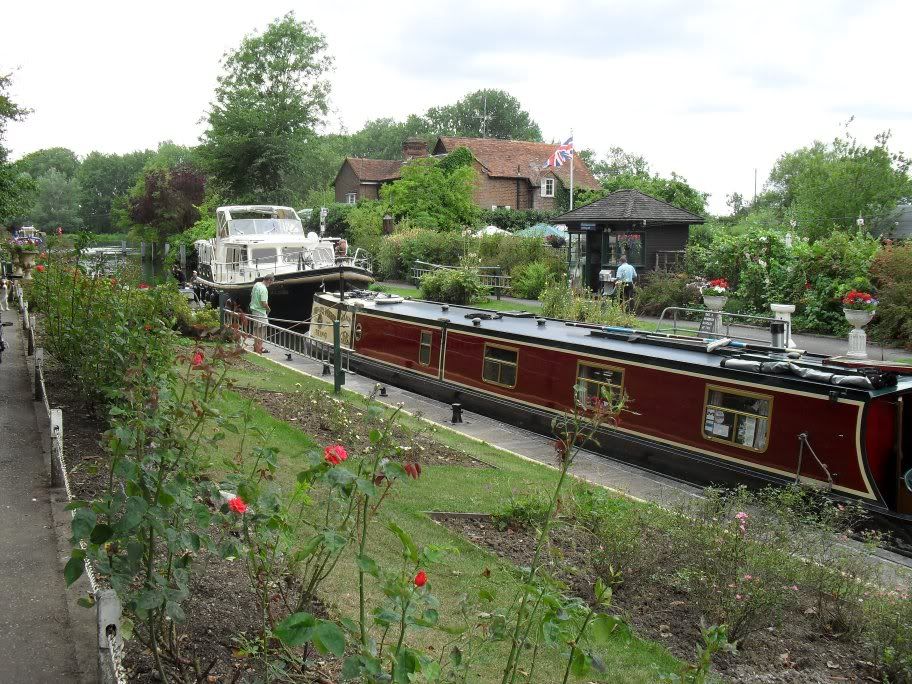 Then just past Sonning bridge is Uri Geller's house. You can hardly see it because of the tall fence and hedges so this is as good as I could capture: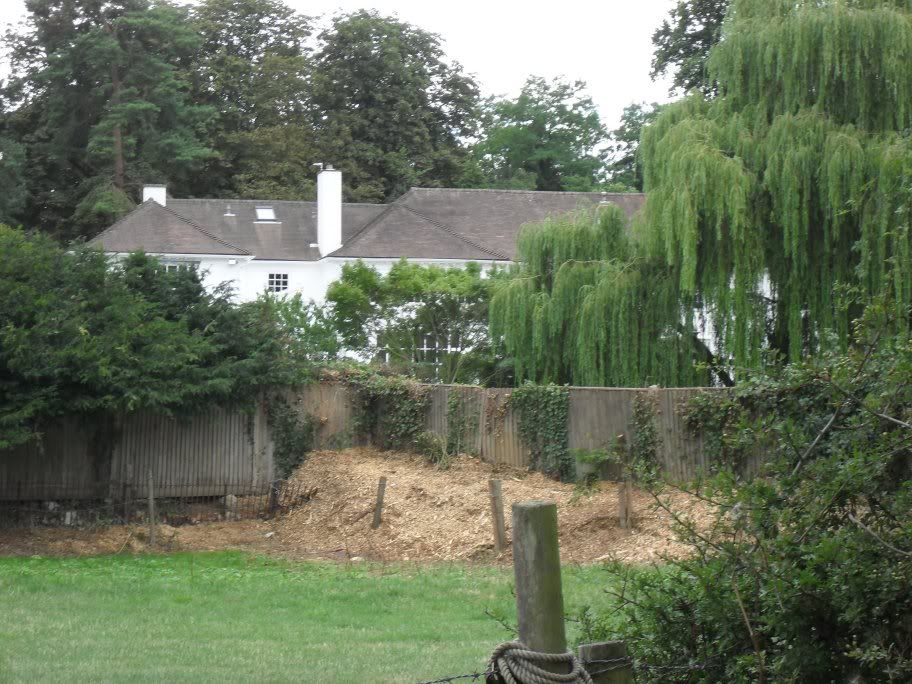 After this point I began to suspect Id made a wrong turn at Sonning bridge and that I perhaps ought to be on the other river bank because the path got really crap. One side was barbed wire fence, the other was stingy nettles, thistles & brambles. A single track ran between with a raised right edge which if you went too far that way would catch your pedal. It was awful.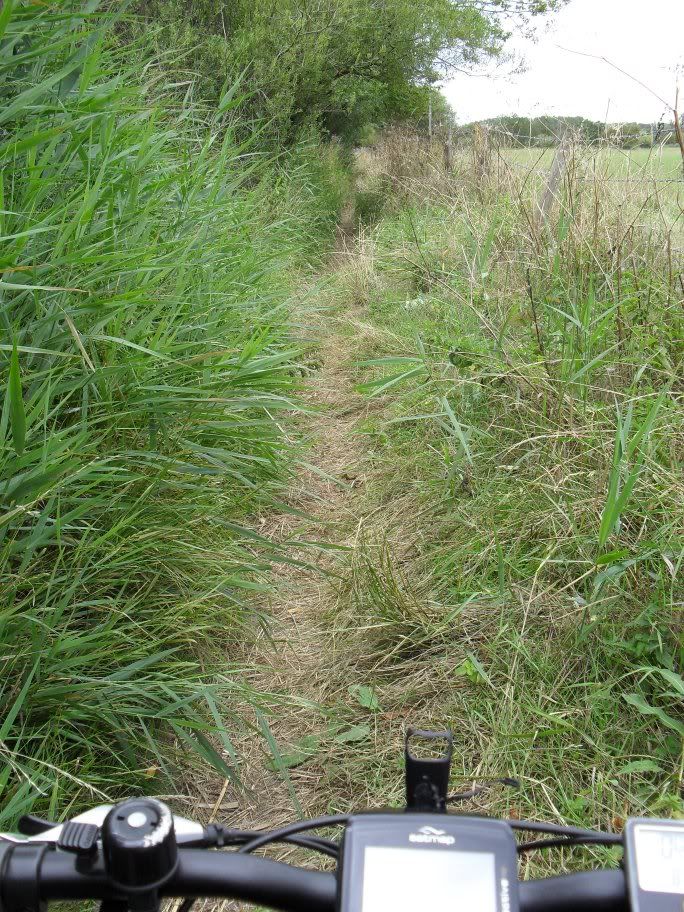 After 3 or 4 miles I came to a beautiful little bridge over a stream - ideal for Pooh Sticks - where I sat and had a late lunch.
I eventually made it to Wargrave and drooled over some highly expensive houses I passed. Rather than going back the way I came because the bumps nearly meant I needed a gynecologist to remove the seat from my ass, I went back via the A4 Bath Road, then to Morrisons for some food for dinner, and met my wife walking home from work.
Active 10 GPS Stats - Home to Town
Mileage: 3.32 miles
Total Time: 35 minsTotal Ascents: 226 ft
Total Descents: 160 ft
Max Altitude: 229 ft
Min Altitude: 104 ft
Route
HERE
Active 10 GPS Stats - Town to Wargrave & Home
Mileage: 16.3 miles
Total Time: 2hrs 54 mins
Total Ascents: 971 ft
Total Descents: 958 ft
Max Altitude: 301 ft
Min Altitude: 85 ft
Route
HERE
A round trip of roughly 20 miles, a good third of which was cross country type cycling, so not too shabby.