Saturday was a fine day so Ben and I went for a bike ride. We hadn't been for one for almost 3 weeks so it was great to get out (as Ben said "

at last

!"). Problems with Ben hurting his leg after a minor accident at school, then he had a bad cold had meant we were jonesing for a ride.
I chose a completely different ride this week, going for a bit of "off roading". We rode about half a mile to the village of Shinfield and then cut down a muddy footpath, around some ruined farming research buildings and came out into a churchyard, then through a small housing estate and across some fields which were really muddy and into the village of Ryeish Green then back across some other fields and muddy footpaths, encountering the largest puddle in Berkshire which we attacked at full speed.
As we came to the end of the second field we were next to some woods and I spot
ted a rusty old bike. I said to Ben that it might be a bit of work but that it could be a good bike for him if it was done up. The wheels are smaller than his current one - which is really a bit on the large side for him - and it looks a bit like a BMX type bike although I'm no expert on these things.
Anyway it turned out that the ride was shorter than we thought - only 4.97 miles round trip. although it took us an hour and a half. We felt fine until we got indoors, then we both felt like rubber legs had been swapped for our normal ones.
We just made back it before it bucketed down too.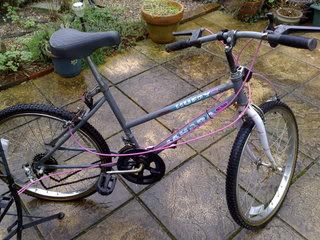 Today we took the car up there hoping to chuck it in the boot before anyone spotted us. Unfortunately an old couple walking their dogs came by but we chatted with them in between petting the lovely Golden Retriever and the other whateveritwascalled dog. They said that the bike had been there for some weeks and agreed that it was good that it was taken away and put to good use.
I was busy the rest of the day so didnt get a chance to strip it down but my thoughts are going along the lines of:
- strip it down
- sand down the frame
- spray prime, top coat and lacquer it
- new handlebars, grips, brakelevers, cables, callipers
- fit a handlebar lever action 5 speed (Its currently 10 speed but broken)
- new chain and any other little bits
The saddle actually looks half decent and well padded, plus the wheels and tyres look to be in fair condition. The only bit I will need to read up on is the gearing stuff as I've never had to bother with any of that in the past.

I have a couple of days off this week and so provided x-mas shopping can be done away with quickly I should get it stripped down and start on giving it a rub down with some wet and dry.