This morning was the dawn of the 3 Counties Cycle Ride. Last nights weather forecast had given for "occasional showers" however upon rising at the ungodly hour of 5.00am I was pleased to see it was promising to be a nice day with a kind breeze keeping the heat down to a decent temperature. After wolfing down breakfast I went to stick the bike rack & cycles on the car as my wife kicked Ben out of bed.
We were both ready and rolled out of the driveway about 6.55am although I misjudged the time it would take for us to get to Bracknell, resulting in us arriving at the designated car park at 7.15am, well before we needed to be there (they had asked us to be there 30 minutes before our 8.10am start). However the car park was locked and after us and half a dozen other cars queued up for half an hour we were told to go park somewhere else.
We parked up, unloaded bikes, cycled to the start area and saw a load of cyclists there. This is what group cycling's all about! There was even a stand with Heart FM - the "local" radio station there.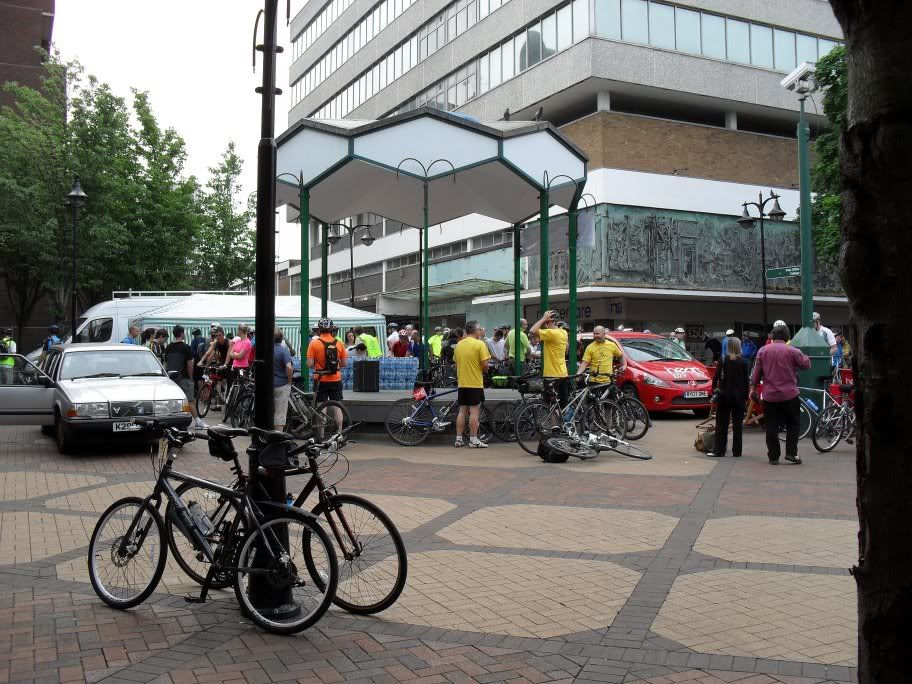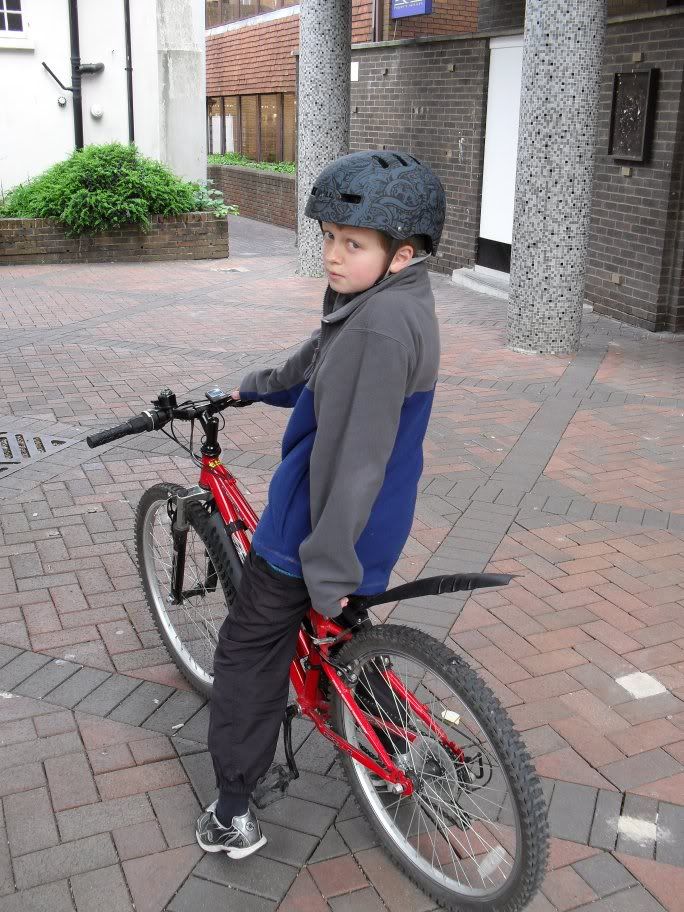 After registering we were there, we then had to cycle to the start line a short distance away, where we and about 30 others in our time slot were to wait for the "GO". There was a little grumpy fat bloke with a loud haler giving orders (whom we ignored) plus the Mayor & President of Bracknell Rotary Club with a large George Cross flag. The Mayor gave a short but inspirational speech before waving the flag and setting us loose. While we waited, Ben & I asked if we could have our photo taken with the dignitaries. Wish I'd had the time to shave this morning :(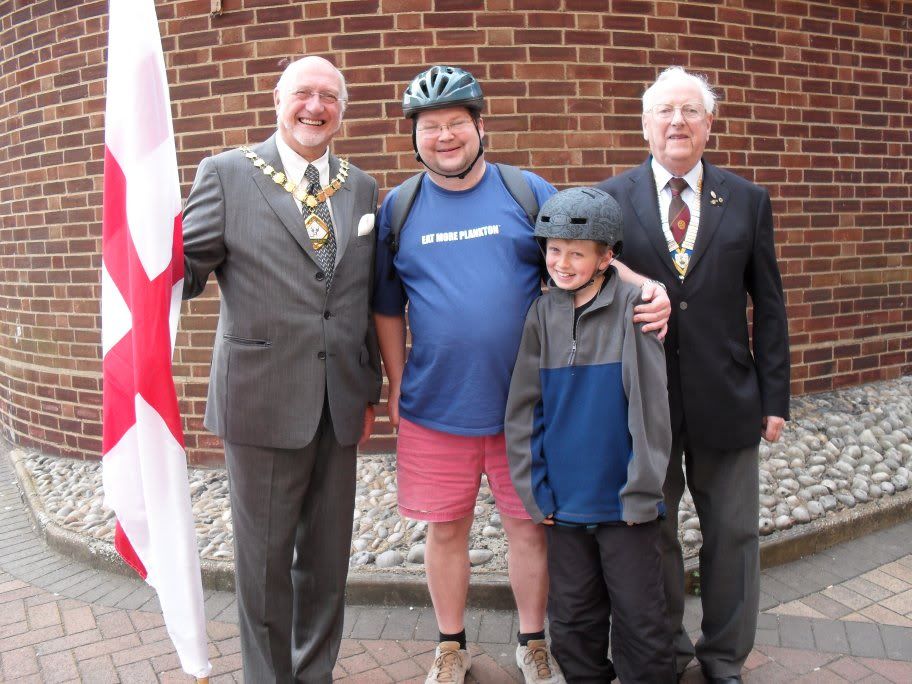 This ride was all on roads, mostly back roads, & as it was also still relatively early on a Sunday morning we initially saw few cars. Those that did pass us were all kind enough to wait or pass widely by.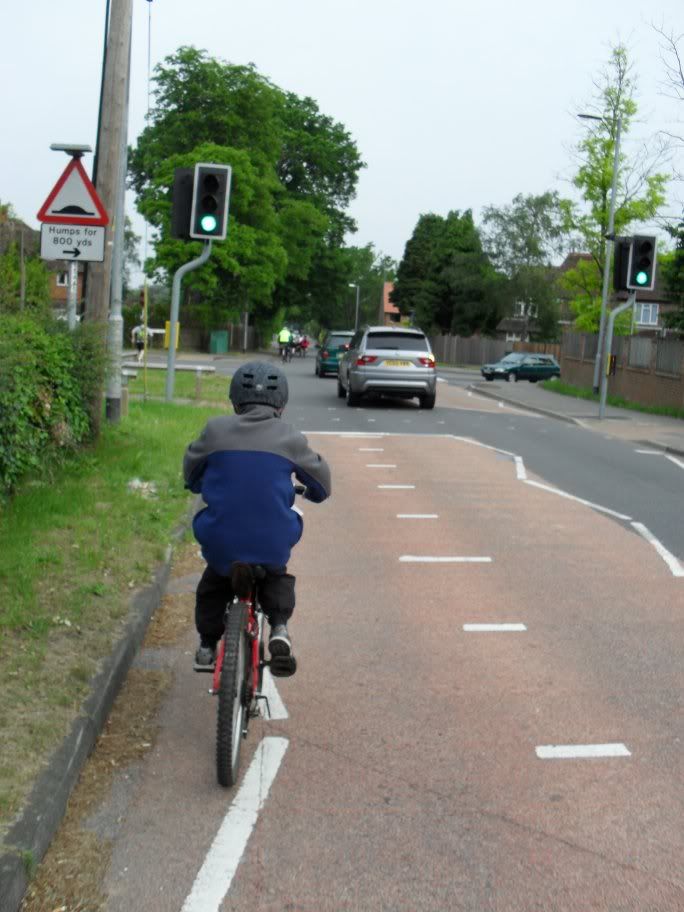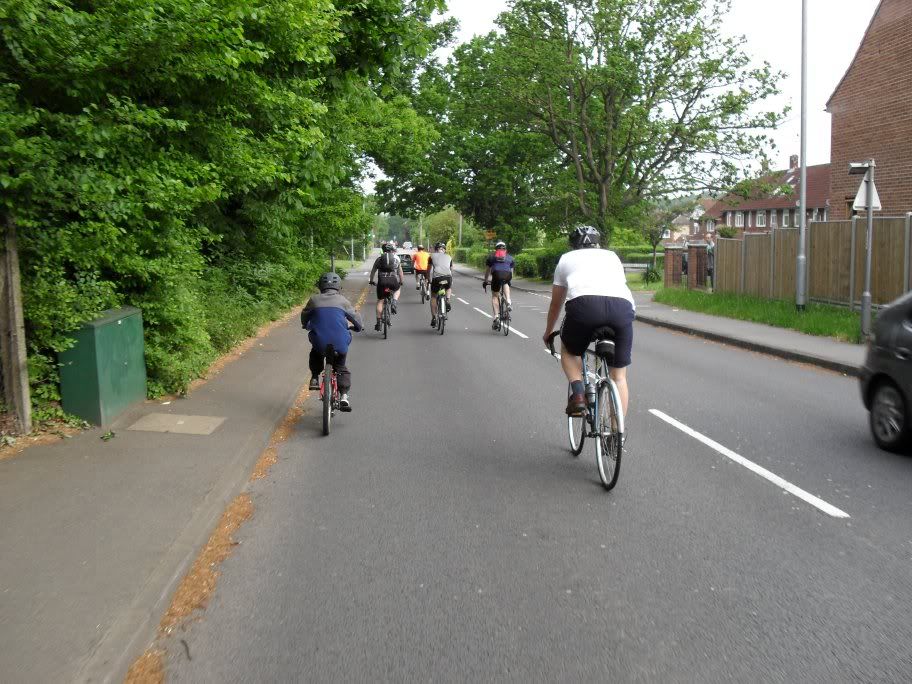 Having said that I'm not keen on seeing people cycling 3 abreast either from a cyclists or a drivers point of view. It's an accident waiting to happen in my opinion either from blocking traffic making cars use the other carriageway or from frustrated drivers.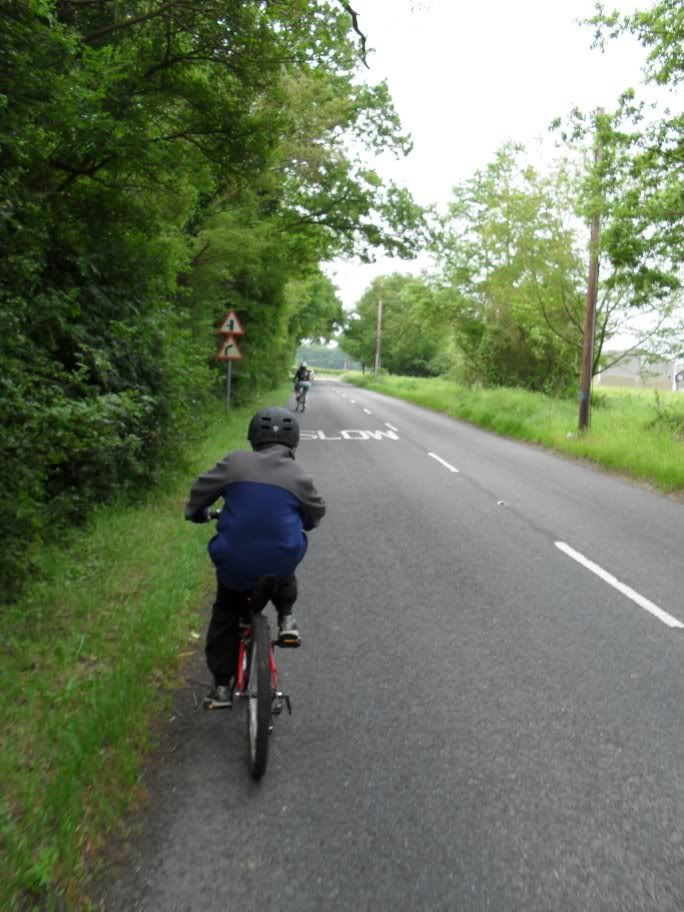 (No idea where Ben's going in the above pic but he looks a bit squint). When we got to the 7.5 mile point there was a marshall at a turn off so we stopped and had a fruit bar each. He was a nice old geezer whom we chatted to for a while before setting off again. The route we were taking formed a kind of figure "8" circuit and there was some debate whether it was 12, 13, 14 or 15 miles long. I had an e-mail last week advising me it was 15 miles, all the signs said 12 miles, and the marshall said it was more like 13 miles but that they were told it was unlucky or something to do a 13 mile ride so they were now calling it 14 miles. Go figure!
As with our last ride, we were overtaken by a lot of people, however we did manage to overtake 3 or 4 on the back half. As well as managing to take pictures while riding one handed, I also got one of this pretty bloke. I think he's oriental lol.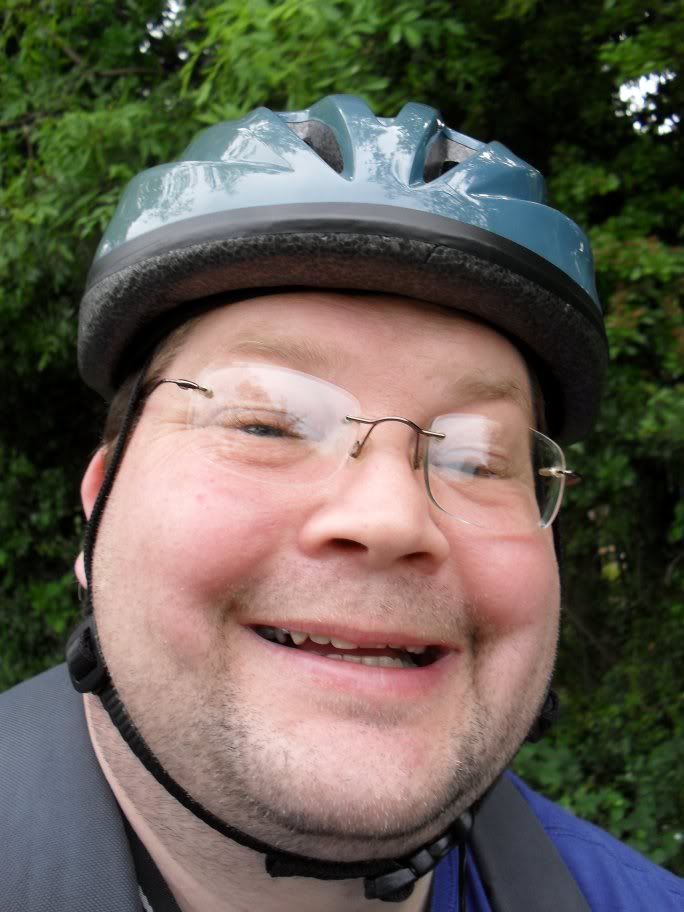 We had a couple of issues on the ride. Firstly, a few miles from the end either someone had spun a 3CCR sign around or it had moved itself. It didn't really phase us as we knew the way, however after we'd finished and were driving home we could see some who must have taken the wrong turn as they were well off course, although fortunately heading in the right direction.
The second thing was my bike started making loud creaking noises. Now I know I've added a bit of weight, but I was afraid the whole thing was on its last legs (wheels?). It wasn't until loading up the bikes onto the car rack that I noticed the large nut around the bottom of the pedal crank where it goes into the bottom bracket was hanging off, flopping around the crank. Looks like I need to give it all a once-over before we go out next time.
Anyway despite that it all went very well. We arrived at the finish line to pick up medals and certificates, plus a bottle of water.
In total we have raised £171.00 for charity through generous sponsorship from Ben's teachers, family, friends and my work colleagues.
My bike computer data:
Distance: 15.6 miles
Duration: 1hr 59min 20sec
Average Speed: 7.5 mph
Maximum Speed: 22 mph
I had told Ben I was expecting about a 2 hour time so not a bad guess, especially considering we stopped whenever we drank, then had a fairly long chat with the marshall half way round. I have to say that cycling on a road for 15 miles is a darned sight easier than cycling off road for 15 miles. My bum still feels like its been kissed by an unshaven hippo, but the difference in effort and time is astounding. Ben also did really well, despite the early rising & we're both looking forward to whatever our next event is.
Finally, before you fall asleep from boredom, when we got home I decided it was an optimal time to weigh myself. Yeah I know its cheating, doing it before I scoffed a ham, cuecumber, lettuce & mayonaise sandwich down my gob, so sue me!
Weight on 6th June 2010 = 217.1 lbs
Previous weight on 29 May 2010 = 219.2 lbs