Long time - no post. Sorry about that but this past week has been truly one of inactivity and sloth what with the trials of the football on TV in the evenings and my lack of desire to get on the bike after work.
However yesterday was the start of National Bike Week here in the UK with many events and activities being organised up and down the country. Yesterday our local CTC body organised a ride from Reading to Newbury & back again - way to far for Ben to handle, but today there was a "thing" going on in Prospect Park which we went to. I have to confess I was expecting something more substantial than the 2 stalls with leaflets, but they had also taken over two double tennis courts.
One of them had a large selection of bikes of all sizes for people to have a go on, and another had trikes which are designed for people with ambulatory disabilities to get their strength back again. We had a go on all of them!
(Click on the images to make them larger)
Ben had a go on a modern day Chopper - they no longer do the centre gear shift and one piece saddle / back rest of the Choppers of my youth. He had trouble steering it and wasn't keen. I told him when I was young you weren't "hip" if you didn't have one of these.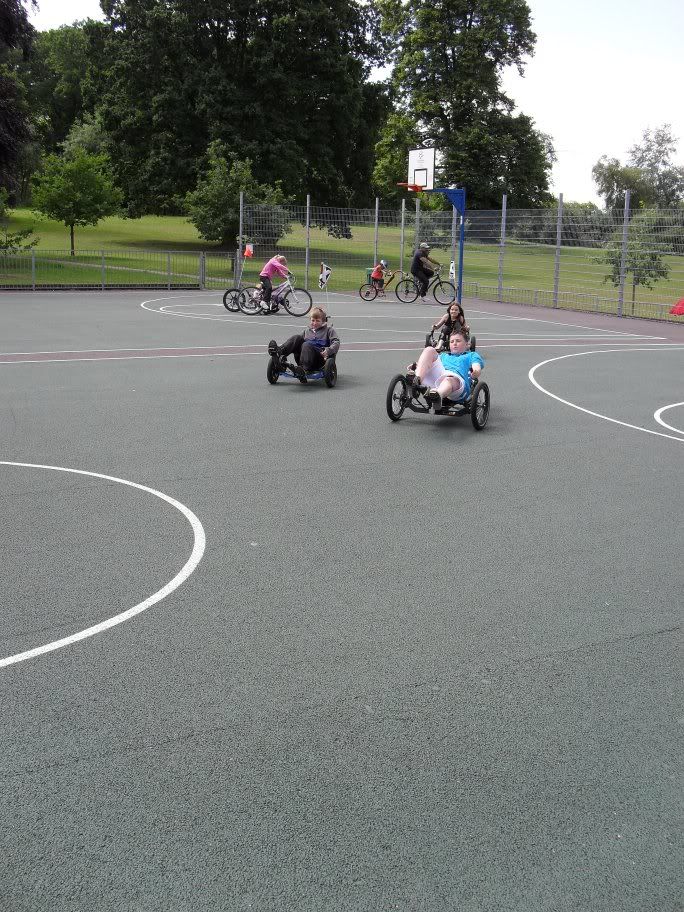 We both had a go on these "recumbent" style trikes. Ben loved these, however with my wallet, phone, car keys etc threatening to fall out with every revolution of the pedals I had to stop after one circuit. Ben went miles on his one. Great fun but bloody death traps on the road though I expect.
Hes not unhappy in the above picture. I think that's determination...or maybe hes trying to let rip a stinker!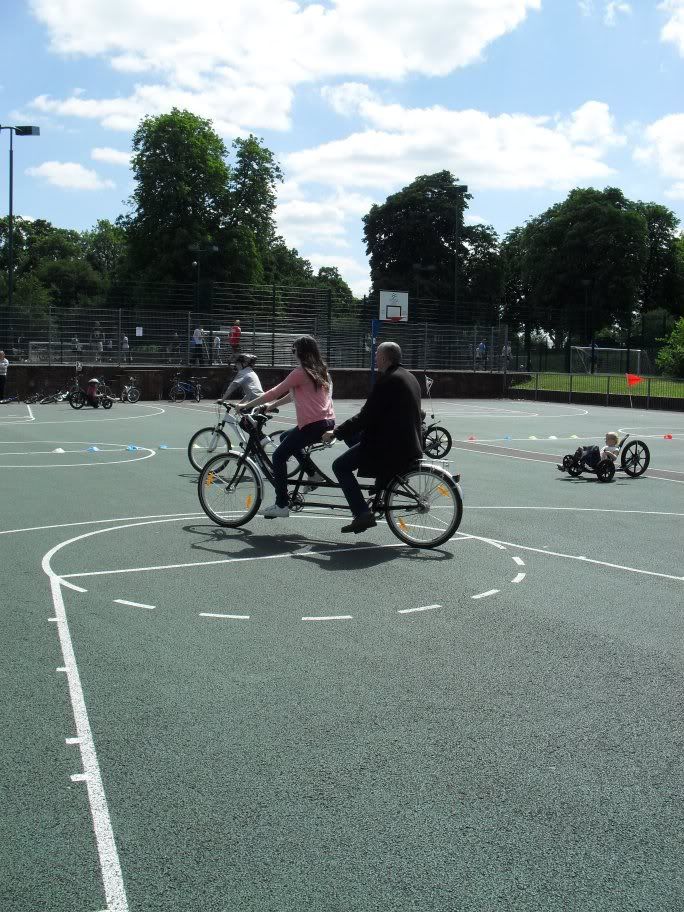 They also had a tandem which we both went on. We
really
enjoyed this and it was so easy to ride too.
A general view of some of the bikes on offer...all free to ride. There were a couple I really liked. Ben tried out a racing bike just his size and although he said it was fast he didn't get on with how light it felt.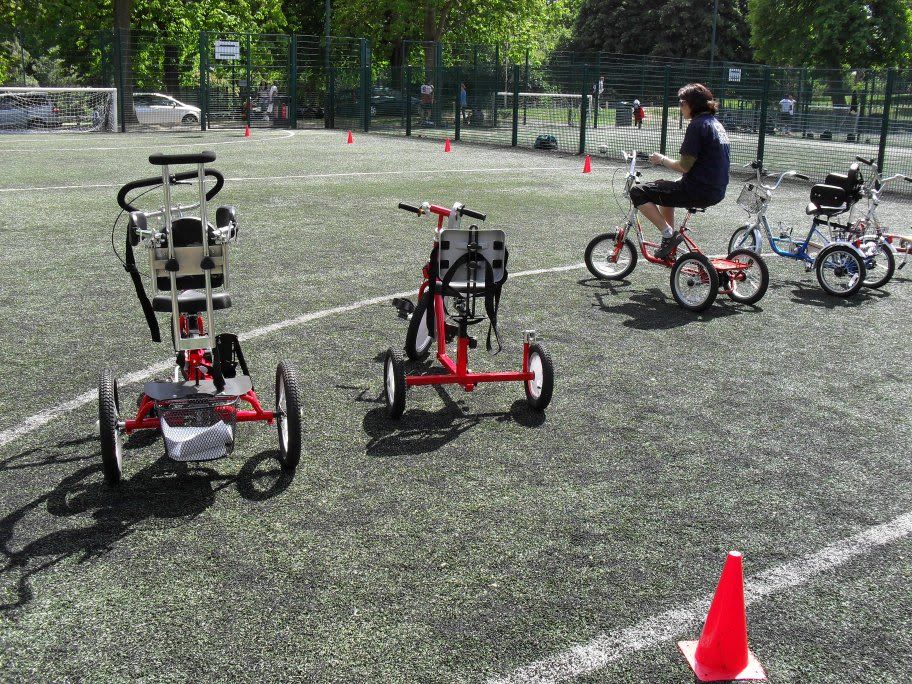 These things were nightmares. The spongy ground made the wheels spin and the gearing was about 500:1. We had a go on a...well I'm not sure what its called...like a trike-tandem. I was pedaling like Road Runner and going 0.001mph and Ben couldn't get his feet to stay on the pedals they were turning so fast. After one circuit I was bushed and out of breath.
In other news
This weekend my boss and a few other guys and girls were cycling in a 24hr charity race around the Top Gear test track. His team (and others) must keep one of their 5 riders on the track at all times and last year they won the Veterans event. However this year word must have got around a bit as the number of competitors has increased dramatically, so they aren't expecting to do as well. Last I heard this morning was that there was even a Commonwealth Games cyclist in one of the opposing teams! Do I hear you saying "ringer"?
Anyhow on Friday my boss had some of the cycle tops on his desk which the company paid to get made up with our corporate logo and colours on. On seeing these I thought "wow I'd love one of those!" and so not expecting any to be spare, let alone in my size, I asked and he said I could take one...fantastic!
However I thought he was taking the piss when he said the largest size he had was 5XL - even I'm not that fat, but he explained that the sizing of cycle tops is odd and true enough it just fits me. Something to work towards eh? A looser fit. These tops are proper cycling tops with 3 rear pockets, one zipped, fully zipped up front and if I do say so myself, rather snazzy. I got Ben to model it for the blog below. I really can't wait to get on my bike with it next week.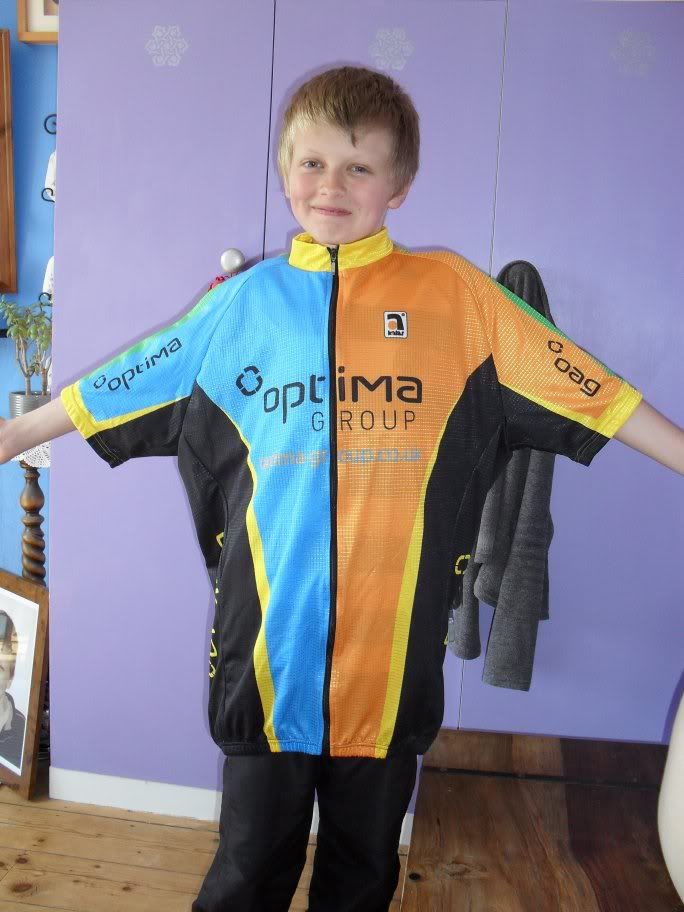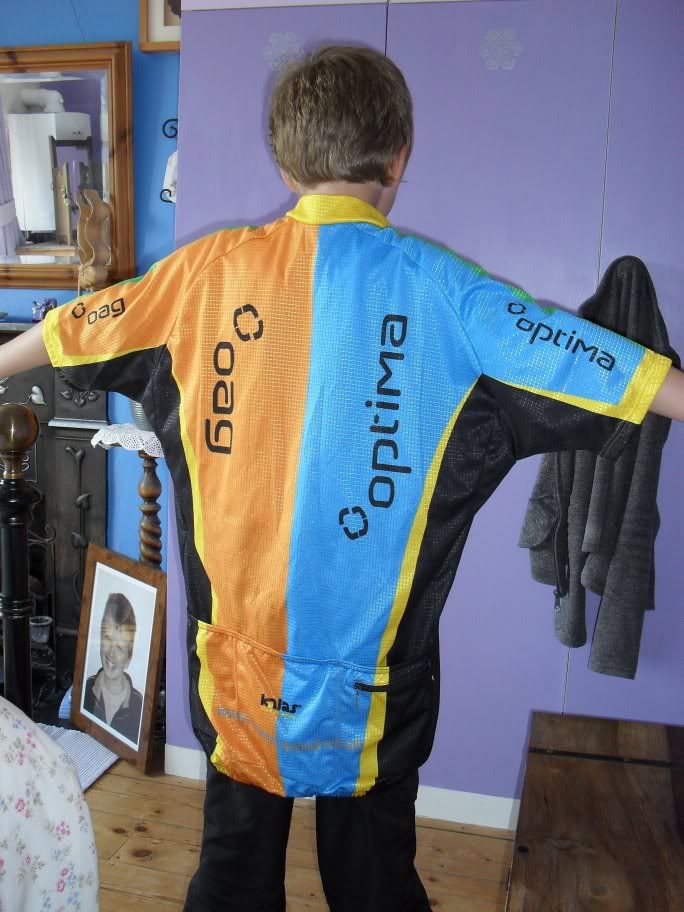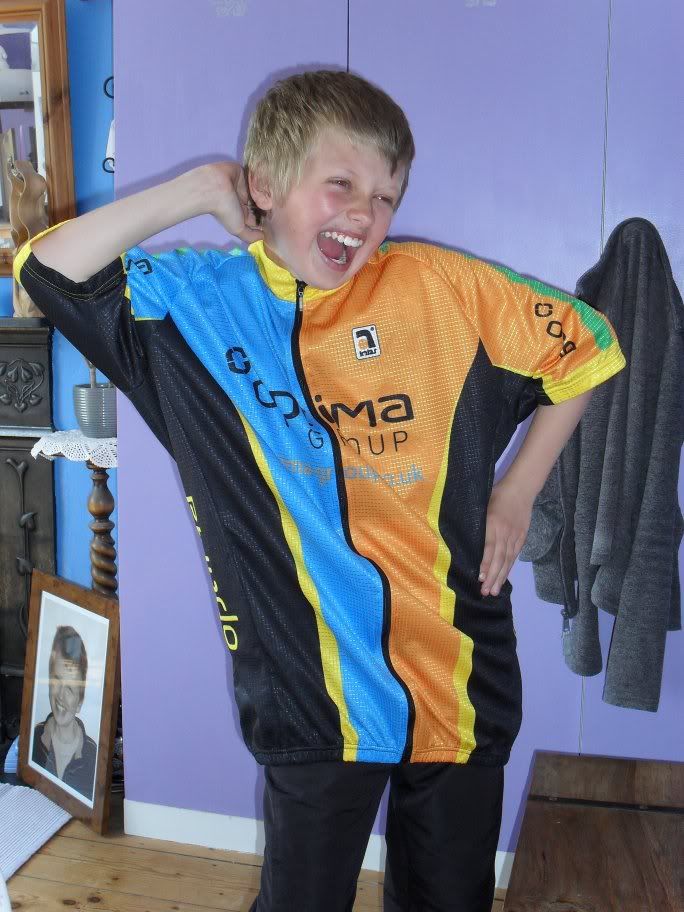 what a poser!