Well the brake problem is solved, with great thanks to
John
,
Clive
and
Welsh
who provided astute back-up. Really great thanks guys!
Yesterday I popped into Halfords Metro in High Wycombe looking for brake spacers. The shop was dire. It's like a mechanics Primark where everything looks just cluttered up or strewn about and cheap. However, and I bet much to Halford's disgust, a few months ago a pucker bike shop opened up right next door to them
Freewheelin
' . While maybe not the cheapest shop around, they aren't wallet breaking and certainly have a great deal more interest and experience in bicycles of all types - and they have a
beautiful
racing bike in the window.
So I popped in there, had a chat with one of the great guys who was working on a bike at the time, and he agreed with John, Clive & Welshs' assessments and so I bought 2 pairs of brake blocks. He also informed me that I ought to toe them in to stop squeeling noises, which I didnt know as Bens bike does that, and how to adjust them. I hadnt realised they could swivel at all. If I hadnt gone in there I would have just resorted to washers as spacers. The brakes I removed were only a screw directly into the rubber. Very odd.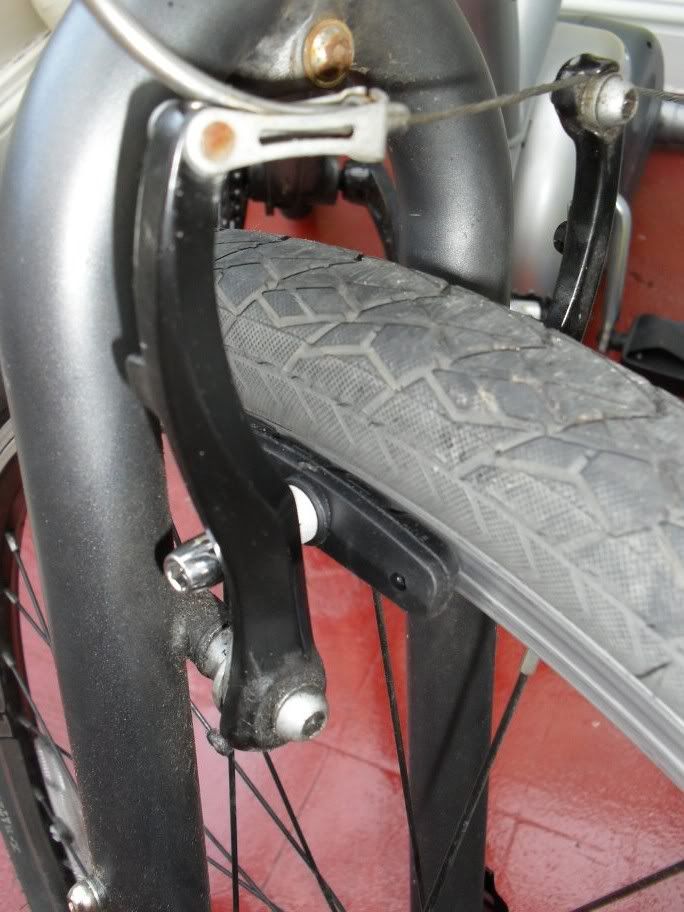 They work a treat now!
One other thing I mentioned to the guy was that the brake levers were not matching nad asked how much a new pair were. After some discussion about which ones I wanted & the merits of twist grip gears I bought these:
They're combined 21 speed quick shifters and brakes in one unit. I can't wait to fit them, although opening out the instructions gives you two double sided sheets of A1 paper which looks very daunting. Thats todays project.
I also noticed that the main outer gear on the front seems to have had 2 or 3 of the teeth partly ground with probably bottoming out on concrete (aka shitty care of the bike). The photo isnt too clear but I think you can see the ground teeth.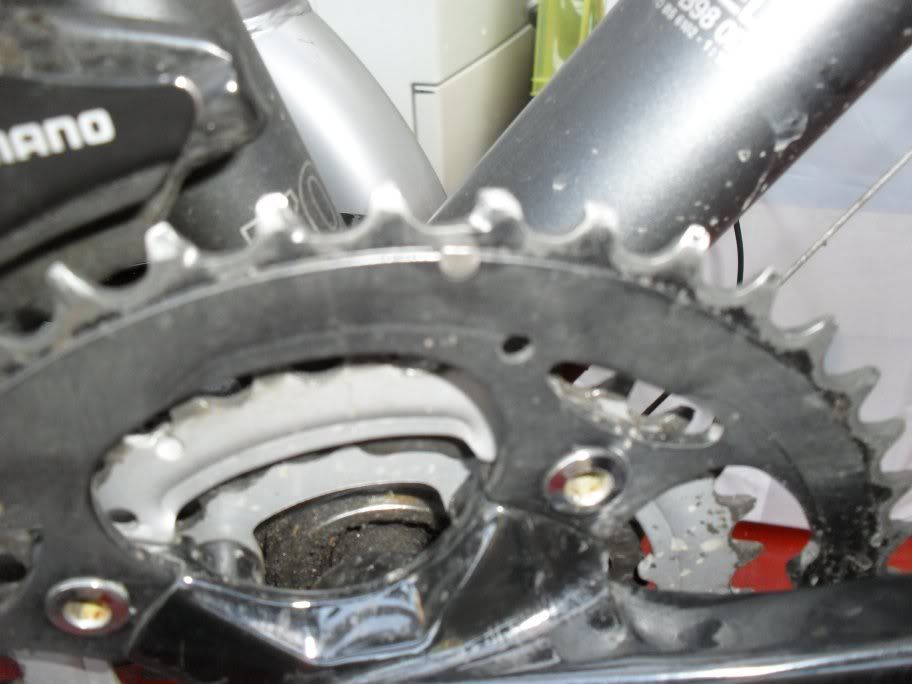 Its a bit of a concern, but hopefully wont cause any damage to the chain. One of the teeth is bent over which I can file / straighten and so maybe it will be okay.
So my list this weekend is:
replace the gear/brake levers with the new Shimano ones
sort the teeth out
properly clean the bike
fit my old trip computer
fit a water bottle holder
clean the car inside and out ready for its service and MOT next week
cut down some of the tree branches at the bottom of the garden
Its going to be quite a busy weekend for me.
P.S I got a reply from the ebay seller. He cant think why the missing parts arent in the box and says he will look for them and forward them in the post...yeah right! I'll not hold my breath for that.