Yesterday morning was the dawn of the Evans Cycles Ride It off road event near Goring. When I got up the sky was overcast and it was drizzling with rain, so I was in two minds whether we should go or not, then my willpower kicked in and I said "sod it lets go for it" and woke Ben up. It was a push to get everything ready for the start at 8.30am but as it turned out there were staged starts and we made the (approx) 9.30 group start. By then the rain had mostly stopped, although it was a little cold and windy.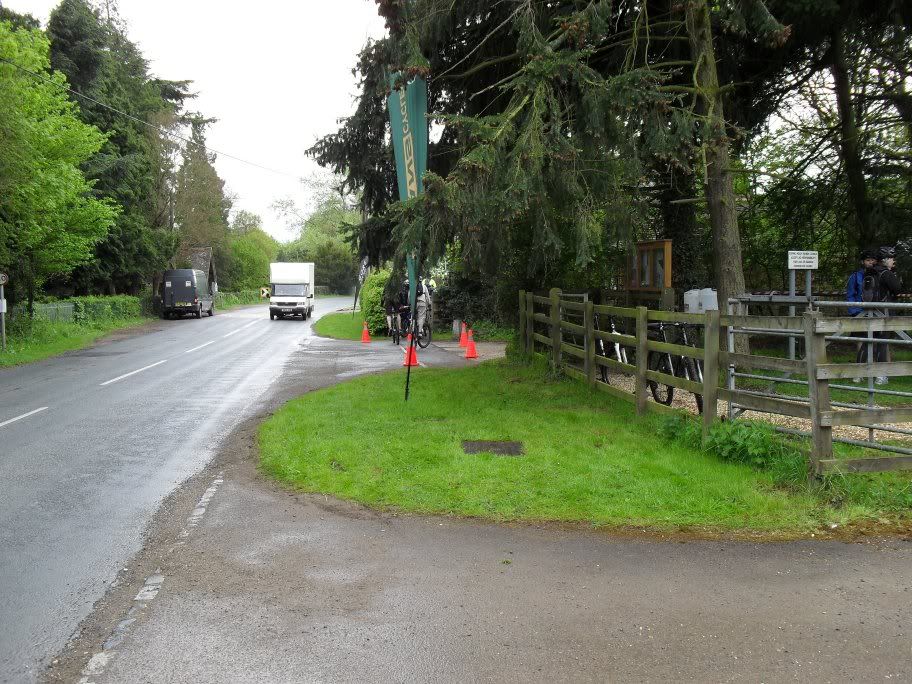 The entrance to the event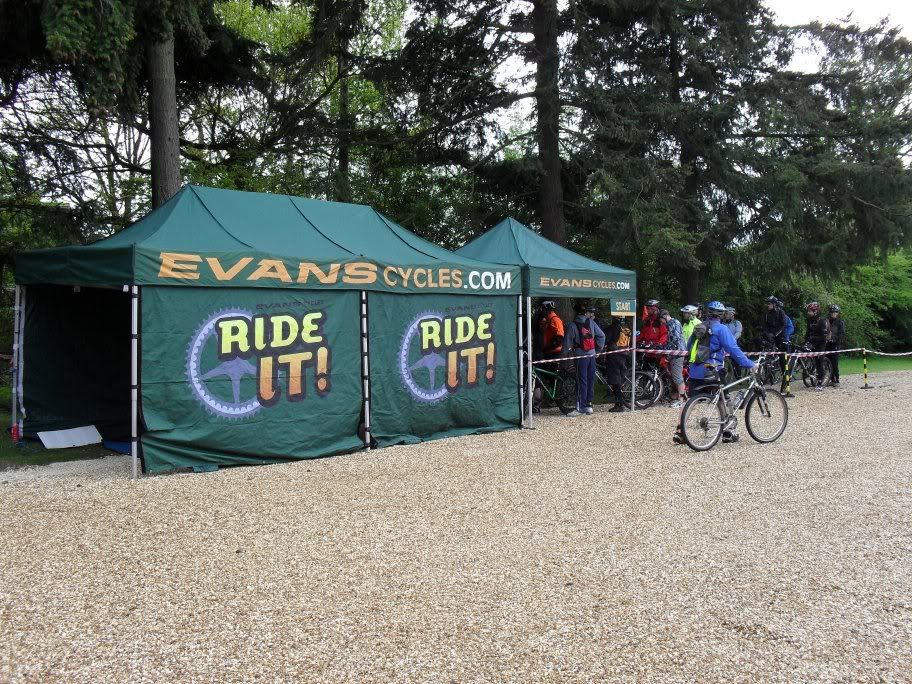 The start tent with electronic tagging timer mat inside
There only seemed to be 2 young boys on the event; one who was obviously a few years older than Ben and was on a full size bike, and another younger than Ben who was on one of those mono-wheeled tow bar things behind his dads bike, so in essence Ben was the youngest solo rider there. Everyone seemed to have spanking pucker expensive mountain bikes except us - me with my old Toys-R-Us thing made of lead and Ben with a small 2nd hand one. Still, we might be the poor offspring, but we were game!
As soon as we started we fell behind our group - never saw them again lol - but we knew we wouldn't be able to keep their pace and we were content to just ride the route for the fun of it.
As you can see from the GPS route in my previous post on Friday I have managed to get the elevation data corrected. We were doing the short route of 15 miles but by no means was it the "easy" route I had thought it would be. In fact some of it was a bloody nightmare! After a few miles of riding on man made tracks, through beautiful woodland footpaths and winding in and out of trees on fantastic runs Ben started to feel the strain of pedaling a bit, especially on the long & short uphill gradients and eventually despite trying as hard as he could we would have to get off and walk up. This was often delayed by us being courteous & waiting for other cyclists to pass us by from behind. A lot of them would call out which side they were passing on which was good, but some idiots just barged by even with what looked like nowhere for us to pull over.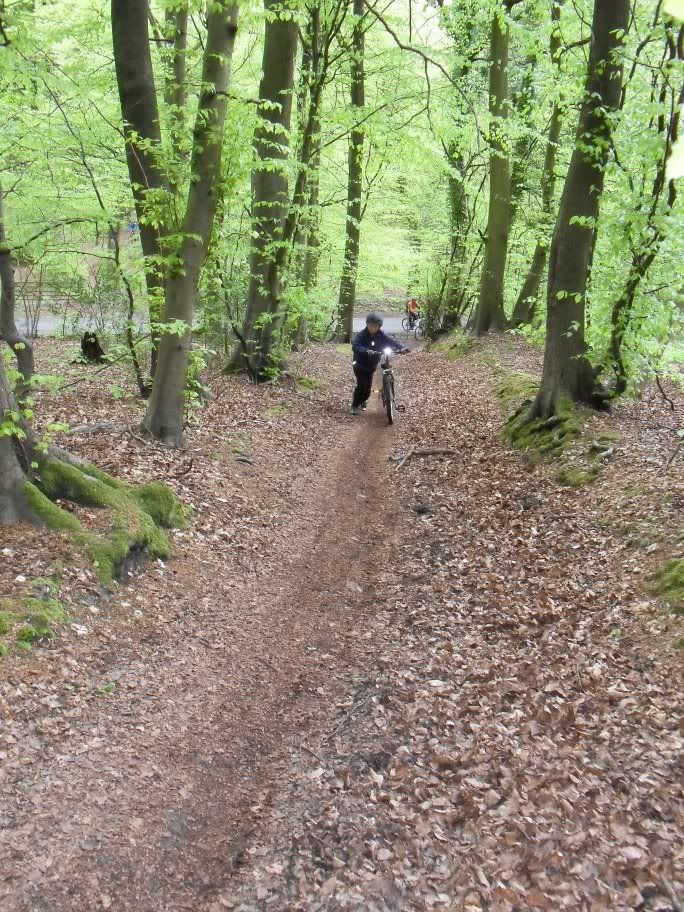 Ben walking up a steep incline through beautiful woods
There was one steep downhill bit where Ben had a really bad accident. He had only minutes ago asked me to ride in front for a change and I had my brakes on so he would know the safe speed to take the hill at (I would have gone faster but I know Ben is still inexperienced off roading) and had advised him to use the rear brake as much as possible with gentle dabs of the front if needed otherwise it would slide away from him.
So there I was tootling down the path when in a scene like Indiana Jones escaping from motorcycling Nazi's who should appear up on the bank next to me hurtling past like a bat out of hell? Yup you guessed it. No sooner was he beside & above me than his front wheel hit a rather large log and up and over he went. It wasn't just him going over the handlebars though, because he actually stayed on the bike as the whole thing cartwheeled upside down and landed, both him and bike, a full 180 degrees, then ground to a stop in the leaves.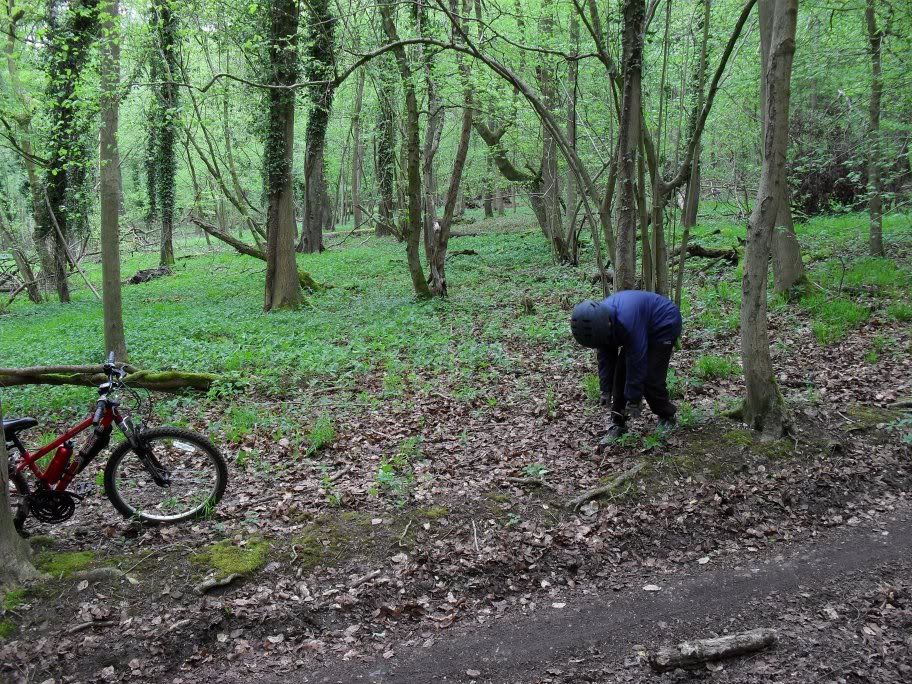 Ben inspects his wounds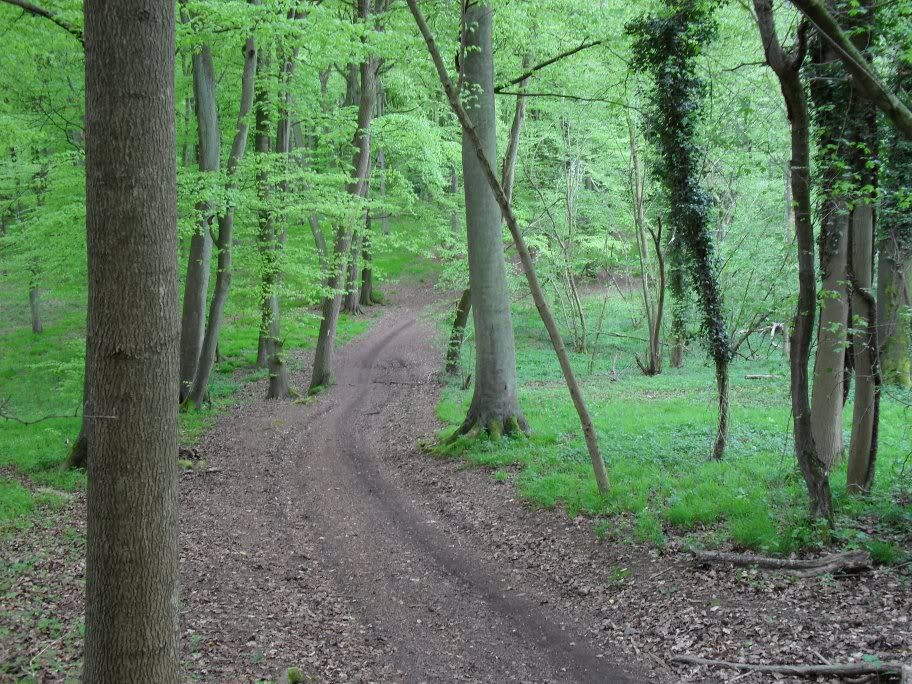 View downhill from Ben's "ride of death"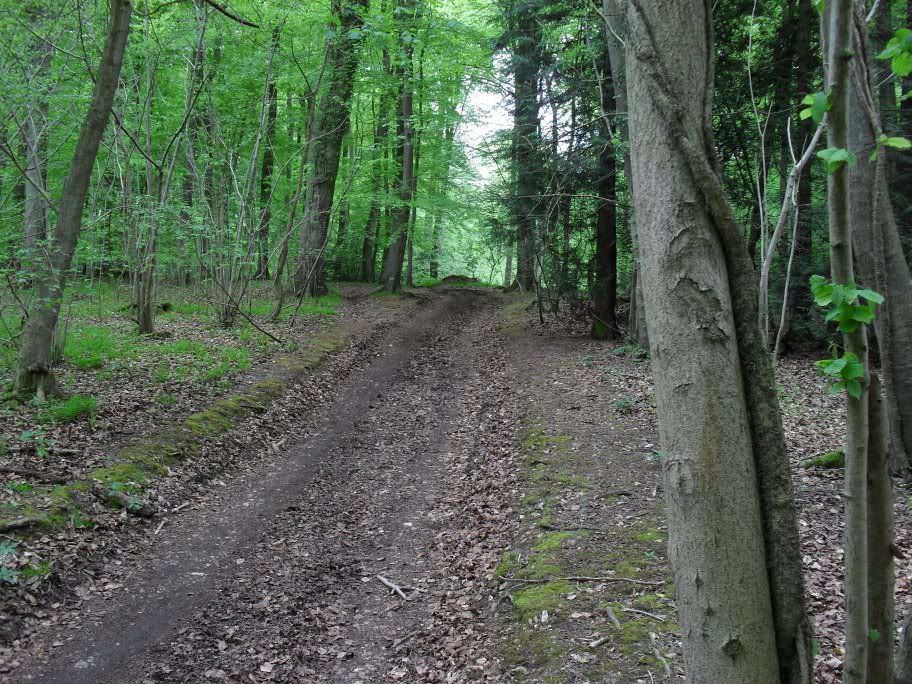 View uphill from Ben's "ride of death"
I stopped suddenly and rushed over. He was quite upset, but fortunately nothing was broken or sprained. He had a bruise on on leg and a small graze on the other, a muddy helmet (from where he had tried to bury it in the ground) and a face full of leaves. He'd also broken the front reflector off his bike, but no biggie as they are pennies to buy. The worry was that with his
Addisons Disease
any bad accident may need a Hydrocortisone injection (which I carry for him), but within a few seconds I could se he was shaken but otherwise fine.
One thing that did annoy me was some pleb who hurtled down the hill as I was tending to Ben shouted at me to move my bike from the path. Now my bike was right on the side by the bank, in no ones way, and there was plenty of room to go around as you can see in the photo above. He could see there was an accident, so I gave him a few curses, told him what I thought of him as he passed into the distance. I hoped we would meet at the end of the ride but I never saw the ***ker again.
After that Ben was very cautious of hills and was prone to getting off his bike to walk down even the smallest. It was a long trip after that, but I can understand his nerves took a knocking and on another weekends riding he'll be back to normal. Its knowing your limits. He explained to me that he was right behind me but that I was going too slow and he couldn't slow down enough to stop crashing into me so he took "the scenic route to Hell". We both laughed after too.
A while later we ended up riding along following the River Thames and came across a farm with hundreds of Alpaca's. Okay I thought they were Lama's until Ben "The Wise" said what they really were. I couldn't understand how he knew and then he pointed out the sign next to me that said "Alpaca's"....doh!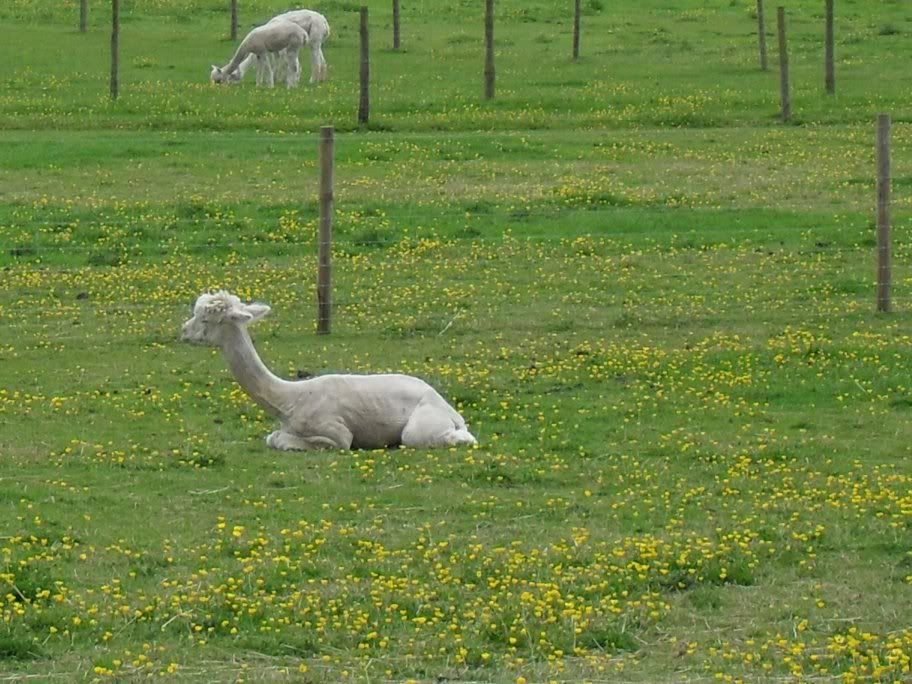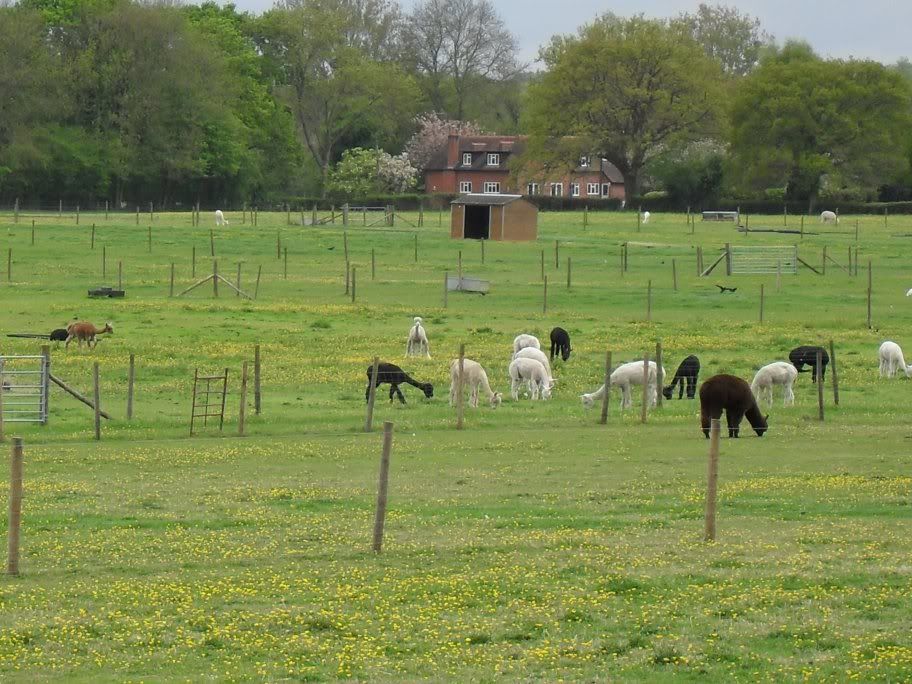 Shortly after that we stopped for a quick lunch of chicken & tomato sandwiches, then as we continued on for a quarter mile further we came to the 10 mile rest stop where drinks and biscuits were being handed out. We both drank some SIS energy drink which was quite sweet and made us both burp & fart for the rest of the journey. Right after the rest stop there were some really steep steps we weren't allowed to cycle down - for good reason - and then some equally steep steps up again the other side. We were both starting to flag a bit now and I had to take both bikes down and up again as Ben was tiring.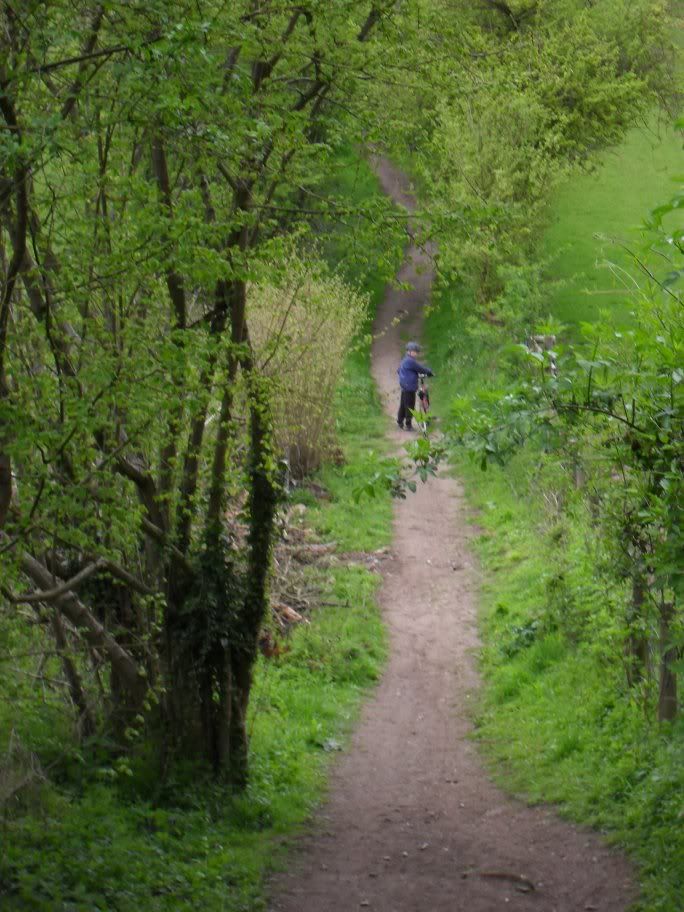 Ben about to start back up the opposite steps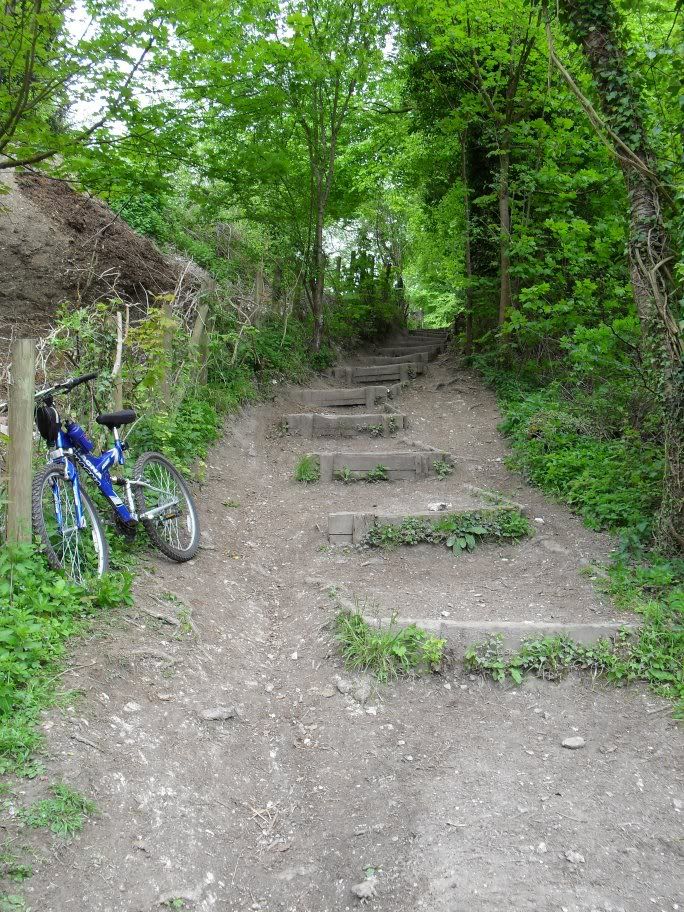 Back up the way we had come (drinks station at the top)
By this time I was pretty certain we were last however there always seemed to be one or two riders coming up behind us. The guy at the drinks stop said he thought there were about 300 riders on the day. After following the Thames for a while longer we hit the dogleg at 11.8 miles, more uphill rambling and we were knackered. The cycling was okay but it was all of the hills that took it out of us so when we got to the 12.2 mile bend I figured we would take a short cut.
In my defence of this almighty cock-up, Id like to say its been many years since I had to read contours and the ones on the map they gave us were pretty crap...in fact the whole map was no use as a trail map to follow. If it wasn't for the signs we'd have got lost at the start. However it did look like we could cut off a lot of the hill by going around the side of it. Sure it would be uphill, but not as steep as the road on the proper route. Well I got that totally wrong and we walked those bloody bikes up the worst path on earth, nearly vertical over 250 ft. How we managed it I don't know, except the thought of going back was worse!
On reaching the top...eventually...we encountered proper road tarmac and could have a real well deserved rest. We came across a huge farm trailer near a field with a nice sized wheel to sit in.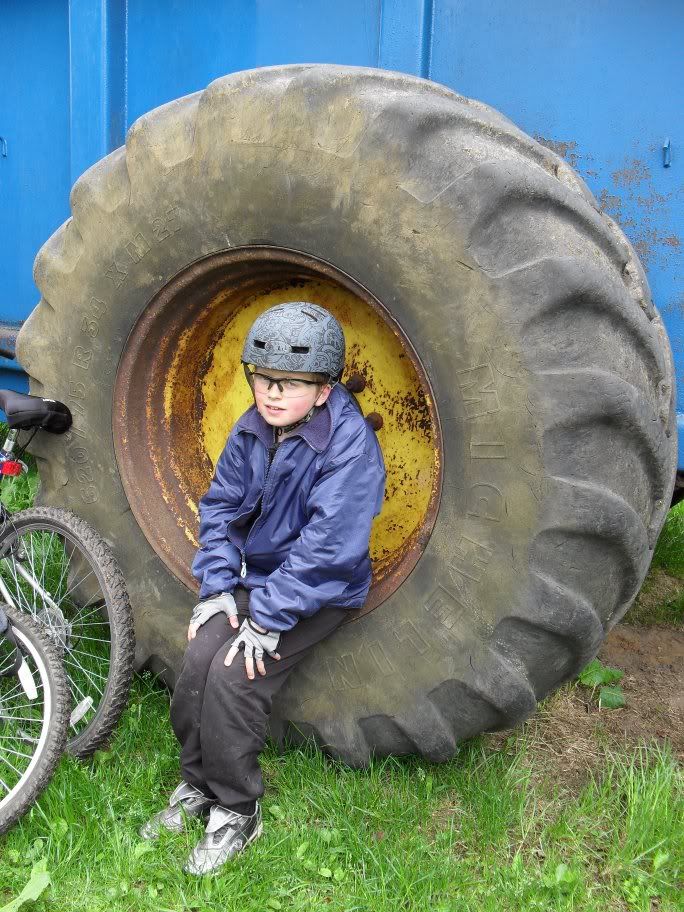 Poor Ben trying to smile but not quite making it work
After a snack & about 20 minutes rest we carried on along the road which intercepted the proper route again at the crossroads near the start/finish. In all it had only knocked off less than a mile! Sorry Ben.
We finished around 1.00pm I think, but by the time we'd got packed up, strutted around being brave and manly in front of the other riders still coming in, cried quietly, sat for a while, etc we didn't get home until around 3pm. Then we had to go weekly food shopping...sigh!
Ben has never cycled anything like that distance before, over such heavy terrain. He did amazingly well and I'm really pleased with him. For myself, the last time I did a distance over 6 miles was over 11 years ago when I did the London to Brighton 54 mile ride.
We both had an early night. I'm okay today but Ben's still a bit knackered. Id like to try to do it faster and am sure I could knock off half the time we took if I was alone, but that wasn't the point. All in all we had a great time. A lot of the course was brilliant to ride and we could do those bits again, making a much shorter circuit of it sometime. Also well done to the team at Evans Cycles. It was very well run and organised with friendly and helpful people, and the course was well signposted so you never even needed a map - unless like me you wanted to take a "short cut".
Stats for the ride:
(I used my new bike computer and I'm not sure Ive figured it out totally, but this is what it tells me)
odometer: 15.4 miles (so much for a "short cut" eh?)
top speed: 14.4mph
ave speed: 4.5mph
ride time: 2:58:31
kcal: 1197