Today Karen was off work so she, Ben & I decided to go for a cycle in Swinley Forest again, although this was the first real time Karen's been on a bike since...dunno! Anyway as Ben has the new "pocket rocket" that frees up his old adult size bike for her to ride. Despite my protestations, she insisted that the saddle was going to be okay as it was - it was set for Ben's height and was a kids size one. This later turned out to be an error on her part.
So we loaded Ben's bike into the boot and put the others on the bike rack and set off.
We decided that this time we wouldn't bother taking the map as there were barely any signposts at the forest. Karen was soon moaning about the unforgiving saddle and I gave her my gel cover to use which seemed to ease the pressure a bit, but I think the fact that the saddle was too low for her meant that more weight was on her butt than being taken by her legs, however she said she wasn't sure enough cycling yet to have it higher. I do need to change it over for a bigger one sometime though.
Over the weekend we've had a lot of rain and there were a substantial amount of puddles. Ben decided that he was going to go through every single one of them, and for the first hundred or so he did just that - at full speed, however as he approached a particularly large one I said to Karen that it looked quite deep, and sure enough it was what I would call a "Vicar of Dibley" sized one! The water in the middle must have been nearly to the bottom of his seat post. His front and rear mudguards couldn't handle the volume of water coursing up the wheels and about a gallon of water ended up all over his back and legs...classic!
After that he was a little more careful in choosing which ones to go through. We tried the side tracks but Karen wasn't so sure of herself on them so we stayed mostly to the wider man-made paths, but this didn't stop them being quite muddy in places. I tried to pick the best routes but sometimes they wouldn't follow me, and on one occasion Karen got stuck in a deep quagmire and Ben had to go back and help her pull the bike out.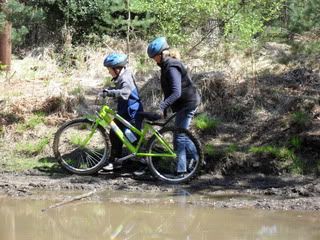 It rained off and on during the morning, but nothing too hard & we stopped for lunch around 12.30 when we saw some nice sized logs begging for tired asses to sit on them.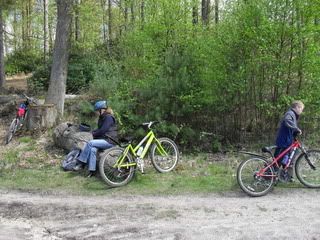 Having a rest wasn't part of Ben's plans for the day and after eating his lunch decided to race up and down the path to get his miles up higher than mine.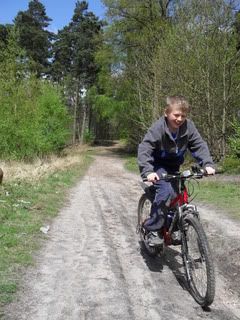 Shortly after we reached an old hill fort called Caesar's Camp and realised we'd made a slight error in our route, however I found a dirt track we managed to negotiate which was quite fun & heading in roughly the right direction; lots of humps and twists and even Karen was managing to cope until we got to a long downhill bit with a path-spanning puddle at the bottom.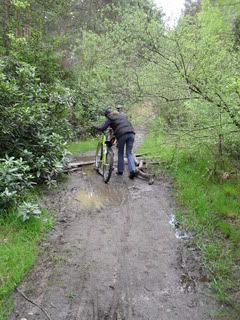 I tried to ride through but the wood buggered me up and by pure fluke I managed to put my foot down on a bit saving me from getting wet feet. A little way further on we hit a long steep uphill bit that none of us could cycle up and remain sane. Heck it was knackering just walking up and I stupidly offered to push Karen's bike up as well as mine! When we got to the top and turned around we saw this sign.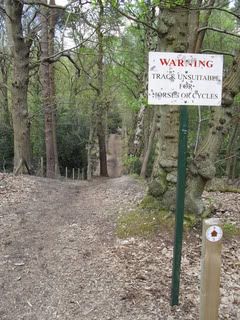 I wouldn't go so far as to say it was unsuitable for cycles, though riding down the hill would have been preferable to going up the ba***rd. I also have to apologise for the photo Ben took of me at the top. I hadn't realised how ugly I really am!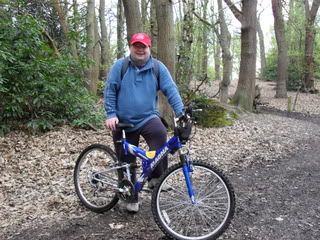 After another mile and a half of uneventful cycling we reached the start again. Oh I suppose I ought to mention Ben getting chased by a big dog as he was riding and he didn't even know about it. The thing was a baby werewolf or something and was right up to his rear wheel, but Ben hadn't a clue it was there before the owner called it back.
We stopped off at the cafe for tea, Lucozade and a rest as well as photos and funny faces.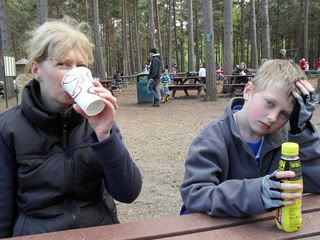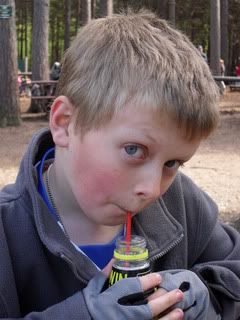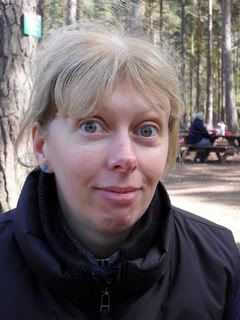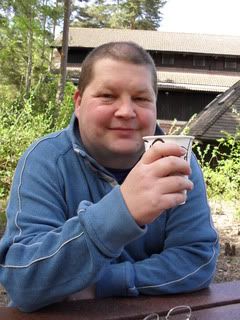 (I'm sure I must look better than this - must be a dodgy camera).

Total miles cycled = 6.66 miles.

So we got home and I really didn't feel like I'd been out cycling at all. There was no tension or tiredness in my legs so I decided to do 5 miles on the exercise bike. What can I say but holy crap that did me in! I did 5.5 miles at a constant 20.5 mph. The bikes in the sun lounge and it gets really hot in there too and I was sweating buckets at the end.
Sadly, my weight has increased by 0.59lb this week to 220.2lbs (15.73st). I can't understand how, and it's disappointing as I've not eaten anything over and above normal. Still its giving me determination to get it down for next weekend.
At least I managed to scratch off a couple of my goals this week. Shame about the weight though...damn!